Description
Spend your time relaxing outdoors with a great group of friends around the glow and warmth of an open flame. The Vermont 5 Piece Woven Seating Set with Fire lets you take the conversation and fun outside to your patio in the most stylish and comfortable of ways. The five-piece fire chat set includes four 360-degree swivel glider chairs that let you rock and sway in comfort for hours. While you're nestled around a circular fire pit with a cast aluminum table top, the inviting ambiance and heat of the easy-to-adjust flame takes center stage. Chairs and fire table base are elegantly handwoven with all-weather, multi-toned wicker that will coordinate with any outdoor setting. The easy care and comfort of the Sunbrella cushions and pillows will keep your guests relaxing for hours. Light up your patio evenings with the Vermont 5 Piece Fire Chat.
Set Includes:
4 – Swivel gliding chairs with cushions
4 – Decorative pillows
1 – Round Fire table with decorative fire glass
1 – Furniture cover
1 – AA Battery
Product Features:
· All-weather wicker is resistant to fading, stains, mildew and stretching
· Cushions and pillows are made with Sunbrella® fabric that is resistant to stains, mildew, chlorine, and fading
· Sunbrella® fabric code Cast Ash 40428-0000 and Divide Mocha 145504-0006
· 60,000 BTU Fire Pit
· Rust-free aluminum frame construction
· Aluminum cast tabletop
· Convenient, pull-out propane tank holder
· Uses standard 9.1 kg (20 lb.) propane tank (not included)
· Fire table can be converted to natural gas; installation and service must be performed by a qualified installer, service agency, or the gas supplier
· Furniture cover included
· Assembly required
· For outdoor use only
· CSA* certified fireplace
*CSA (Canadian Standards Association) provides global testing, certification and consumer product evaluation services
Product Dimensions and Weights (W x D x H)
Chair:
80.5 cm x 86 cm x 91.5 cm
31.6 in. x 33.8 in. x 36 in.
Net Weight: 24.2 kg / 53.3 lb.
Fireplace:
Diameter 106.2 cm x 63.1 cm Height
Diameter 41.8 in. x 24.8 in. Height
Net Weight: 33.3 kg / 73.5 lb.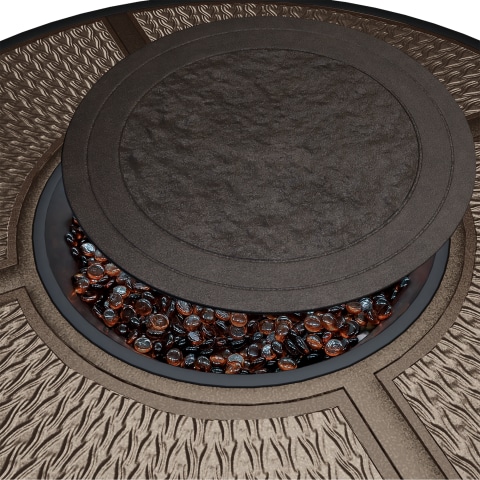 Packing Information:
Box 1 – 2 Chairs and burner cover
108 cm x 86 cm x 135.5 cm
42.5 in. x 33.8 in. x 53.3 in.
Gross Weight: 66.2 kg / 145.9 lb.
Box 2 – 2 Chairs
108 cm x 86 x 135.5 cm
42.5 in. x 33.8 in. x 53.3 in.
Gross Weight: 61.9 kg / 136.6 lb.
Box 3 – Fire table base, furniture cover and Fire glass
87.5 x 87.5 x 71.5 cm
34.4 in. x 34.4 in. x 28.1 in.
Gross Weight: 35.8 kg / 78.9 lb.
Box 4 – Fire table top
117.5 x 7.5 x 119 cm
46.2 in. x 2.9 in. x 46.8 in.
Gross Weight: 18.5 kg / 40.7 lbs.
5 Years Manufacture Warranty 
The estimated delivery time will be approximately 20 - 30 business days from the time of order.
Payment & Security
Your payment information is processed securely. We do not store credit card details nor have access to your credit card information.