Description
Features:
Nylon mosquito netting and spun polyester curtains included
For Sojag customer service or missing parts, contact Sojag directly:855-659-4402 or Costco@shelterlogic.com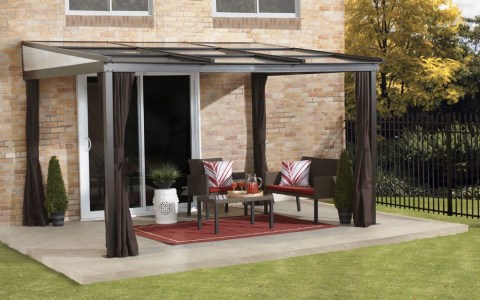 Bring the indoors out with the Budapest mural gazebo. This unique sun shelter is designed to be the perfect extension of one's home, allowing enjoyment of the outdoors while being sheltered from the elements. Crafted from durable aluminum, it can withstand the toughest of weather conditions and can be left up year round. The retractable aluminum roof is designed to provide shade to your home and protection from the sun's UV rays. With its nylon mosquito netting, the Budapest is perfect for a dining table or conversation set, for hosting an evening get together while providing protection from bugs. The addition of the high quality spun polyester curtains can provide more intimacy and privacy while adding an extra level of sun protection. Create the perfect haven in your own backyard with this beautiful 4 season mural sun shelter.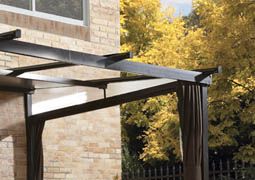 Polycarbonate side panel
The side panels on your Budapest are made of clear polycarbonate panels letting in the light.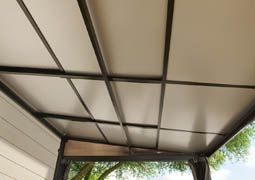 Retractable roof
Find the perfect balance between sun and shade with the innovative retractable roof made of ACP (aluminum composite panels).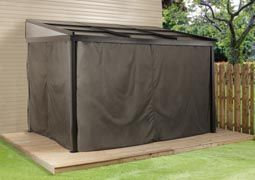 Privacy Curtains (Included)
These high-quality curtains can be used to give the gazebo a different look, but also to shelter you from harsh UV rays and to give you privacy.


Features:
Available in 1 size:  10'x12'
Rustproof aluminum frame
Innovative retractable roof made of aluminum composite panels (ACP)
Nylon mosquito netting and spun polyester curtains included
Stainless steel screws
Color: Dark brown
We recommend retracting the roof panels for the winter season as well as removing any accumulation of snow from the gazebo.
Assembly required, approx. 6 hours with 2-3 people, Allen wrench included
Replacement parts sold separately
Warranty:
1 year limited warranty against manufacturer defect
3 years against rust on roof panels




Aluminium composite panels
(ACP), Are flat panels consisting of two thin coil-coated aluminium sheets bonded to an unbroken, low density, poly-ethylene core.

The exterior aluminum layer is then coated with a PVDF coating (Fluoro-carbon resin) to aid with the resistance of extreme weather conditions and minize the possibility corrosion. This coating is also unaffected by the temperature changes and provides a resistance to the ultra-violet rays of the sun.

The unbroken, low-density, poly-ethylene core is used to isolate the different exterior temperatures minimizing the amount of heat transparency the panels allow.

The interior aluminum layer is coated with a sparkling silver polyester resin coating to simulate a brighter setting contrary to most galvanized steel gazebos.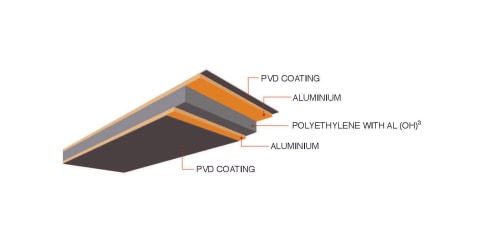 Dimensions:
BUDAPEST 10'x12'
Footprint: 113.4" x 144.3"
Roof Dimensions: 117.5" x 143.3"
Maximum entry headroom: 72.0"
Maximum outside height: 95.7"
Gazebo total weight: 255.6 lbs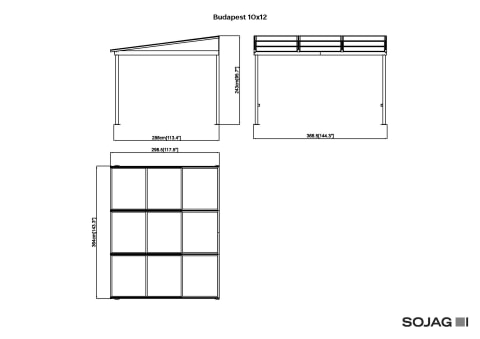 Payment & Security
Your payment information is processed securely. We do not store credit card details nor have access to your credit card information.