Description
Features:
Includes 2 loveseats, 2 swivel chairs and 1 fire table
30,000 BTU
Aluminum frames
All-weather resin wicker with Sunbrella® fabric
Cover included
3 Year MAnufacture Warranty
Gather your friends and family around the fire table to enjoy this cozy Park Falls 5 Piece Woven Seating Set with Fire. This Park Falls patio set gives you maximum levels of comfort with two loveseat gliders and two 360-degree swivel glider chairs that move and sway as you entertain family and friends. The rust-free aluminum framing is beautifully wrapped with a hand woven, all-weather wicker. The multi-toned chairs are inviting on their own – with UV-resistant Sunbrella® cushions and accent pillows. At the center of the conversation is the warmth, and ambience of a coordinating porcelain tile fire table with a natural stone border.
Set Includes:
2 – Gliding Loveseats with cushions
2 – Swivel gliding chairs with cushions
1 – Rectangular Fire Table with decorative fire glass
6 - Decorative pillows
1 - Furniture Cover
1 - AA Battery
Product Features:
· All-weather wicker is resistant to fading, stains, mildew and stretching
· Cushions and pillows are made with Sunbrella® fabric which is resistant to stains, mildew, chlorine, and fading
· Sunbrella® fabric code Cast Silver 40433-0000 and Capra Coal 145600-0005
· 30,000 BTU Fire Table
· Rust-free aluminum frame construction
· Hand-laid porcelain tile tabletop with natural stone border
· Convenient, pull-out propane tank holder
· Uses standard 9.1 kg (20 lb.) propane tank (not included)
· Fire pit can be converted to natural gas; installation and service must be performed by a qualified installer, service agency, or the gas supplier
· Furniture cover includes
· Assembly requires
· For outdoor use only
· CSA* certified fire pit
*CSA (Canadian Standards Association) provides global testing, certification and consumer product evaluation services. For more information about CSA group visit www.csagroup.org.
Product Dimensions and Weights (W x D x H)
Loveseat Glider
129.9 cm x 84 cm x 91.3 cm
51.1 in. x 33 in. x 35.9 in.
Net Weight: 32.6 kg / 71.8 lb.
Swivel Gliding Chair
73.9 cm x 85.5 cm x 91.3 cm
29 in. x 33.6 in. x 35.9 in.
Net Weight: 23.68 kg / 52.2 lb.
Fire Table
131.6 cm x 81.7 cm x 64 cm
51.8 in. x 32.1 in. x 25.1 in.
Net Weight: 67.25 kg / 148.2 lb.
Packing Information:
Box 1 – 2 Swivel Gliding Chairs
94 cm x 78 cm x 132 cm
37 in. x 30.7 in. x 51.9 in.
Gross Weight: 59.3 kg / 130.7 lb.
Box 2 – 2 Loveseat gliders, 1 fire table leg, 1 furniture cover and 2 side woven panels
134 cm x 98 cm x 132 cm
52.7 in. x 38.5 in. x 51.9 in.
Gross Weight: 95 kg / 209.4 lb.
Box 3 – 1 Fire table base and fire glass
84.5 cm x 79 cm x 71.5 cm
33.2 in. x 31.1 in. x 28.1 in.
Gross Weight: 29 kg / 63.9 lb.
Box 4 – 1 Fire tabletop
141.5 cm x 8.5 cm x 92 cm
55.7 in. x 3.3 in. x 36.2 in.
Gross Weight: 41.3 kg / 91 lb.
Customer Service
For US and CN only
If you have any questions, please call Agio Customer Service Center in the US and Canada at 1-888-383-1932, 9:00am - 5:00pm Monday - Friday EST. English and French, or you may email customerservice@agio-usa.com.
Minimum Floor Space
Individual Component Detail Dimensions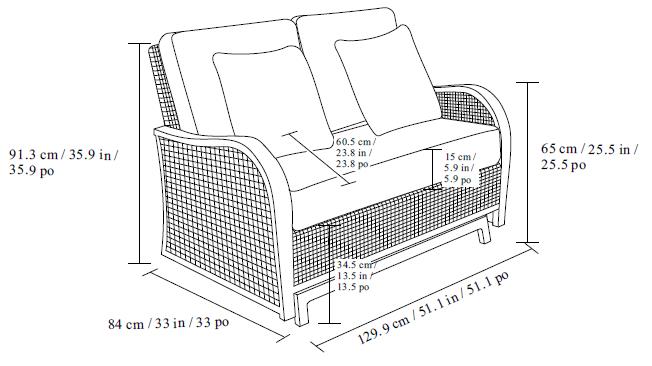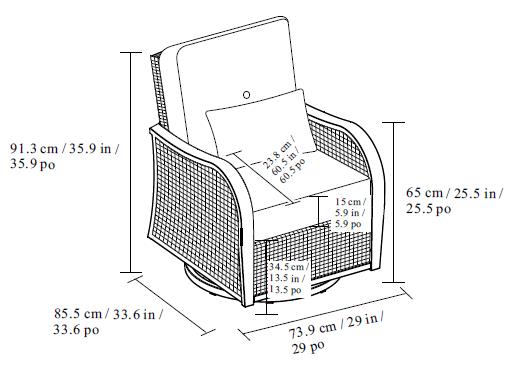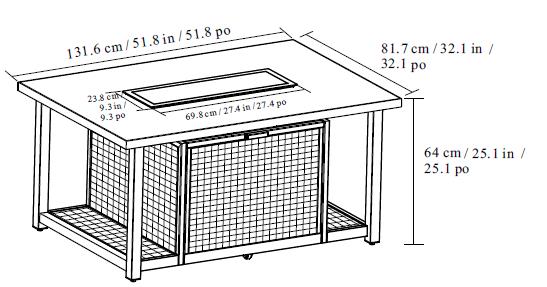 Fabric Name and Image
The estimated delivery time will be approximately 10 - 15 business days
Payment & Security
Your payment information is processed securely. We do not store credit card details nor have access to your credit card information.