Description
Features:
Available colours:Canvas Taupe (tan) (5461-000), Canvas Navy (blue) (5439-0000) and Canvas Burgundy (red) (5436-0000)
Solar powered rechargeable LED lights
Sunbrella® canopy fabric
Rotates 360°
Base included
Key Features


Lighting options to illuminate rib lights, hub light, or both lights at the same time
Battery can be charged indoors with included power supply and outdoors with attached solar panel
Fade resistant Sunbrella® canopy rotates 360 degrees offering maximum shade
With the ease of a glide handle, effortlessly angle the canopy tilt up or down to adjust shade coverage for you and your guests
Ribs, hub, and handle coordinates with the matte bronze pole finish
Traditional yet stylish fabric color and finish complements all outdoor patio décor
Durable rust free aluminum construction gives umbrella long lasting quality
Umbrella base included
Ideal for residential use
Glide Handle and Canopy Crank
Durable powder-coated finish glide handle and canopy crank
58 canopy angles and up to 70 degrees of tilting action to maximize shade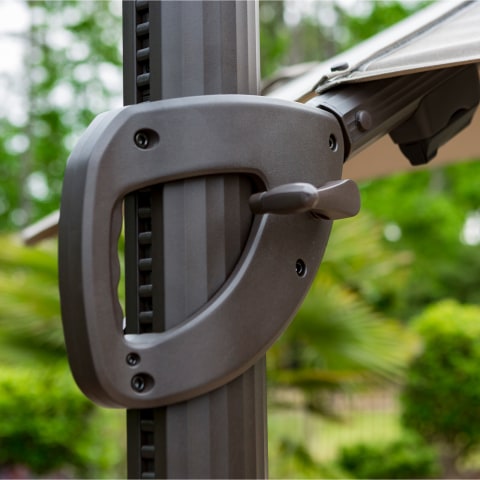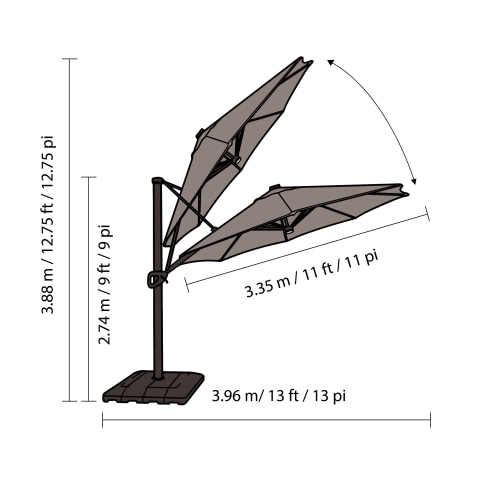 Battery and Solar Lights
Includes two removable and rechargeable lithium-ion batteries
Recharge battery with included power supply indoors or with the solar panel outdoors
Battery Capacity Meter uses a set of easy-to-read LEDs to display battery power
Lighting options to illuminate LED rib lights, LED center hub light, or all lights together at the same time
98 LED rib lights, each light-point having two starlights run along the umbrella's ribs
Up to 8 hours of illumination with fully charged battery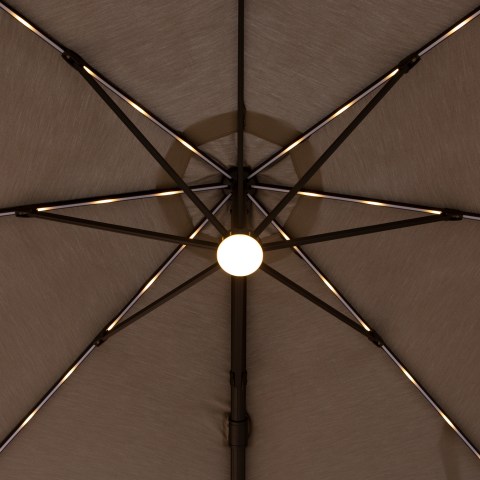 360 Degree Crank and Canopy Rotation
Turn lower crank handle either direction
Canopy rotates 360 degrees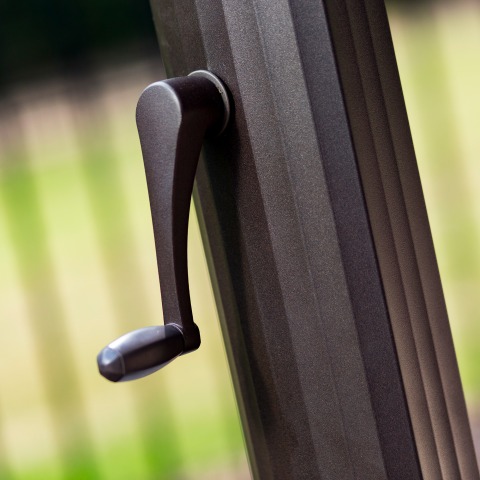 Umbrella Base
Includes easy to assemble 4 piece heavy-duty resin umbrella base
Base has four chambers for adding weight to provide maximum stability
Recommend filling total base with at least

 

91 kg (200 lbs) 

of sand and water for best results
Base Dimensions (L x W x H):

 

101.6 cm x 101.6 cm x 15 cm (40 in. x 40 in. x 5.9 in.)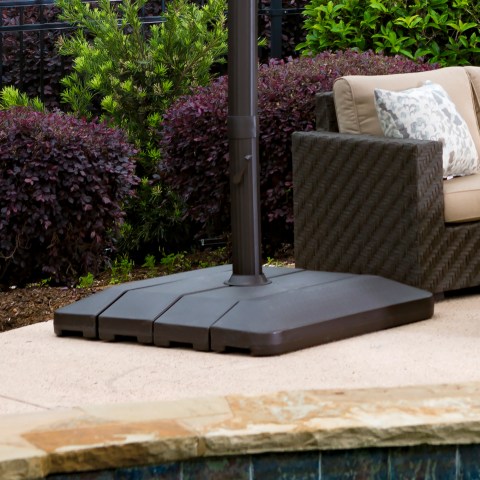 Specifications
Round Solar LED Cantilever Umbrella
Brand: Seasons Sentry®
Material: Aluminum
Canopy Dimensions: 3.35 m (11 ft.) Diameter
Height: 2.74 m (9 ft.)
Item Weight: 41.91 kg (92.40 lbs)
Part# UMB-956815
Base included

 

(L x W x H): 101.6 cm x 101.6 cm x 15 cm (40 in. x 40 in. x 5.9 in.)




Item# 1900675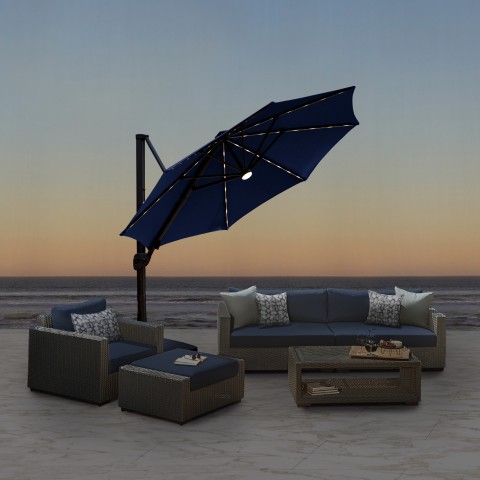 Item# 1237133
Payment & Security
Your payment information is processed securely. We do not store credit card details nor have access to your credit card information.