Description
Features:
Back Light Display
Exclusive Pre-warmed Tip and Guidance System Ensures Accuracy Each Time
Professional Technology and Safe for All Ages Including Under the age of 2
Memory Function Recalls Last Temperature Reading
Lens Filter Ejector for Easy Removal
Braun IRT6030CA ThermoScan® 5 Ear Thermometer


Designed to give you some peace of mind when your child comes down with a fever, the Braun ThermoScan® Ear Thermometer with ExacTemp™ Technology has all the features you could ever want in a thermometer. The ThermoScan® features a pre-warmed tip that improves accuracy, a unique guidance system that ensures precise results, infrared technology that takes your child's temperature in seconds, and a backlit screen option to take temperatures in the dark.
Why Measure in the Ear?


The ear canal is the best site to measure a fever because of its close proximity to the eardrum, which shares the blood supply of the brain's temperature control center. This site allows for a more accurate reflection of the body's core temperature.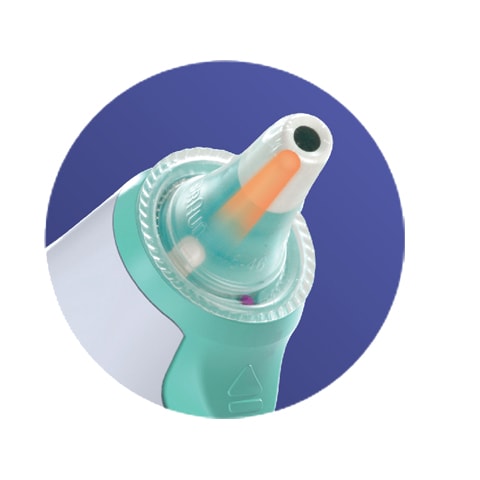 Exclusive pre-warmed tip technology is designed to minimize the cooling effect of the tip inside the ear canal, providing accurate measurements time after time.


Unique positioning system uses a light and beep to confirm proper positioning.


Memory function recalls the last temperature reading.
Additional Product Highlights
Infrared Technology and Flexible Tip Make Measurement Fast and Gentle
The Braun ThermoScan® is the perfect thermometer for parents who have fussy children. The ThermoScan® measures the infrared heat generated by the eardrum and surrounding tissue, giving an accurate temperature in just a few seconds. With such a fast measurement time and with a small, soft, flexible tip, the ThermoScan® is as gentle as can be. In fact, the ThermoScan® is so gentle and fast, you can take your baby's temperature while he or she is sleeping, without worrying about an unscheduled wake-up.
Lens Filters Improve Accuracy and Safety
To ensure the accuracy of every temperature reading, a new clean lens filter should be used for each measurement. Lens filters protect the tip from scratches, as well as from impurities such as earwax, which might adversely affect the accuracy. Furthermore, exchanging the lens filter before every temperature reading virtually eliminates the risk of spreading germs from one person to the next.

For ease of use, a lens filter detector makes sure that a lens filter always is in place, and a lens filter ejector makes removing used lens filters as easy as can be.
About Braun: Award-Winning Design, Quality, and Innovation
Braun strives to fulfill consumer needs by creating products that have innovative features and benefits, high-quality performance and durability, and ergonomic, distinctive, and aesthetic design. Braun products consistently achieve outstanding rating tests conducted by independent consumer organizations, and international awards and exhibitions document the reputation of the company and its products.
What's in the Box
Braun IRT6030CA ThermoScan® Ear Thermometer, protective cap, 61 disposable lens filters, and 2 "AA" batteries.
Payment & Security
Your payment information is processed securely. We do not store credit card details nor have access to your credit card information.